Main Categories
The muffler men
The first of the muffler men was a giant Paul Bunyan, with a giant Axe, built for the "Paul Bunyan Café" by Bob Prewitt in 1962. Bob owned the company Prewitt Fiberglass, but sold it a year later to Steve Dashew in 1963, who renamed it "International Fibreglass".
In the next decade thousands of these figures were produced, and could be seen all over North America. The prices varied between US$ 1.000,- to US$ 2.800,- Some companies bought modified figures, that represented a mascot or trademarked logo.
The 1973 fuel crisis sent, and in 1976 International Fibreglass closed.
Company Branded giants
Burger Boy
Bob's Big Boy burger restaurant had a large "Burger Boy" as a mascot.
Mr. Bendo
More than 10 of these were built, in order to advertise for the "Bendo" machine, that could bend exhaust pipes in shape right in the local workshop.
Muffler Man
The statue that has given the name to all the giants, promoted mufflers for exhaust systems, and can often be seen at automotive workshops.
Texaco Big Friend
One of the rarest fibre glass giants today, are the Texaco Friendly Giants.
300 of these were originally built for Texaco, but only 4 of these are known today.
These were built on platforms with wheels, so they could be moved between different petrol stations.
Uniroyal Gal
The Uniroyal girls advertised tires at workshops. They were properly dressed as new, but some were later modified to be wearing skirts or bikini's.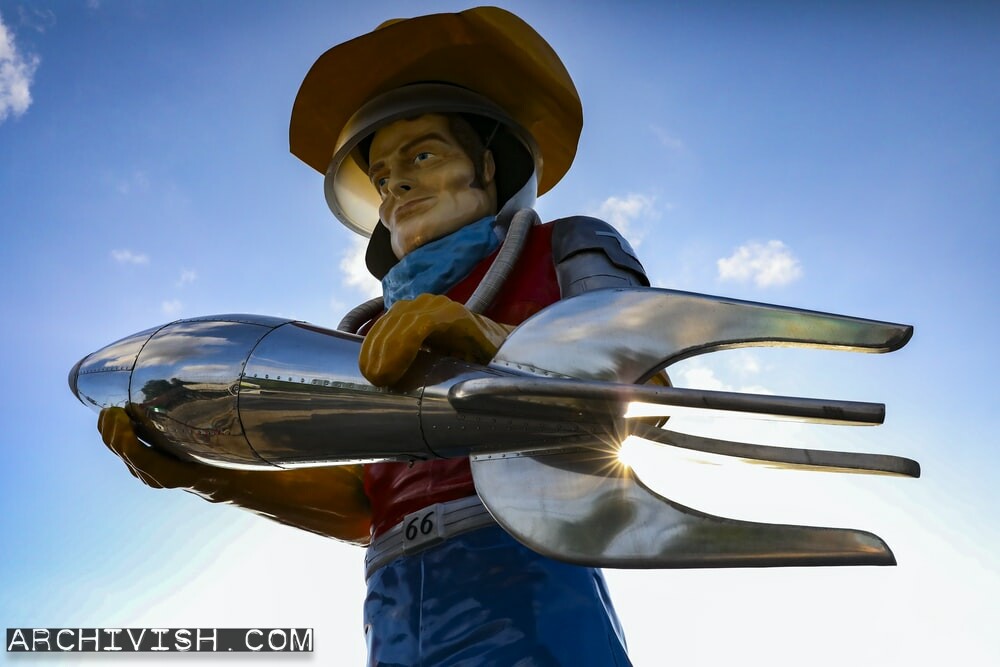 If you know anything more about these muffler men, or have information about others, please leave a comment below